Featured Video
About
International hit show 'Boys in the Band' celebrates the world's greatest hits from the most iconic bands of the 20th century!
Billed as "the feel good show of the year" the high energy concert features of 50years of tunes such as Walk Like a Man, Sherry, Can't Buy Me Love, Let it Be, Hey Jude, Imagine, Blame it on the Boogie, ABC, Unchained Melody, Bridge Over Troubled Water, Surfin' USA, Good Vibrations, Staying Alive and medleys of the biggest hits the world has ever known.
Boys in the Band have enchanted audiences right across the globe performing a two week season at The Mandela Theatre in South Africa and at the F1 Grand Prix in Singapore, followed by their hugely successful first Australian tour in 2014 which included a string of shows at the iconic Arts Centre Melbourne. During this time critics labelled them "a cut above the rest", "a classy blast from the past" and audiences raved "it was the best two hours I've ever spent".
Backed by their sensational live band 'The Players', Boys in the Band are four of the country's brightest stars and with a unique combination of masculine charm, amazing harmonies and slick moves, they will have you up and out of your seats in no time.
Listen
Jackson 5 Medley
50's Medley
Beatles Medley
Jersey Boys Medley
Latest News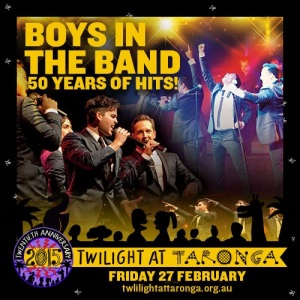 We are thrilled to announce that Boys in the Band will be headlining at both the 2015 Twilight at Taronga Concert Series and the 2015 Melbourne Zoo Twilight Concert Series in February of next year. These high profile events are a huge achievement for the boys and we look forward to seeing you at the…
It's official, Boys in the Band have now wrapped up their first Australian tour. We would like to send out a huge thank you to each and everyone of you that supported us, came along to the shows, and took the time to show us some love. It has been a wonderful ride and we…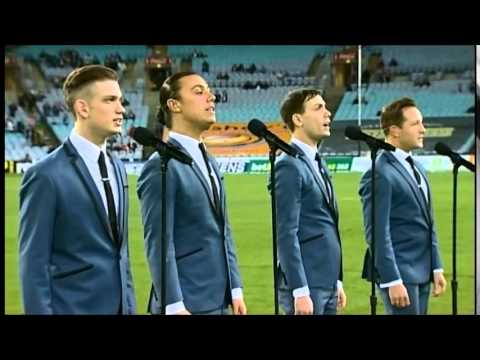 It was an honour and a highlight to perform be invited to perform the Australian National Anthem to over 20,000 people at ANZ Stadium during our first Australian tour.